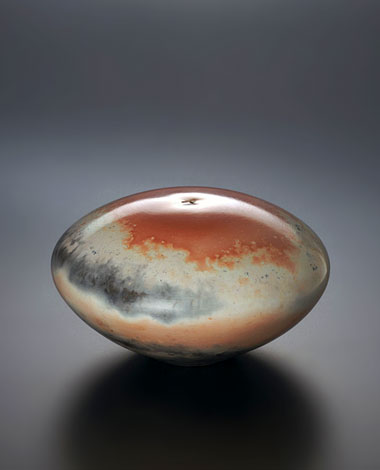 Saggar Fired Orb, 41/2"x8"x8", wheel thrown
The Intention
The way I perceive the world and the way I live is the way I touch the clay.
Beauty in the simplicity.
Attention to that which is so easily missed.
Taste, sound, touch, smell, sight.
Perceive with all senses and be attentive to all aspects of every object and being.
Bathe in the beauty of the world and draw pleasure,
satisfaction, and fulfillment from every part of existence.
Stack the stones, smile, pay attention, and notice them and their relationship to their surroundings. Don't miss them even for a moment. If they fall, stack them again. The concept of the finished object in your mind. The mastery of the material. The understanding and respect for process. I am inspired to capture this essence in the object that will live forever.
The dance with the life of the clay
Sometimes leading, sometimes being led
Understanding, manipulating, and respecting
The concept becomes the object.
The mother material. The clay: soft, pure, malleable. The form, the surface, the delicate areas of texture, the markings. I hope to create a sensuous feeling that invites one to touch with the hands and the eyes.
To create such a permanent object, yet retain that illusive malleable quality of the material and the reverence for life and the world. That is the essence of my work.